If this event requires registration, fill out the information below and click on Complete Registration at the bottom of the page to register for this event. If the event does not require registration, disregard the registration information. If you have any questions, please call 419-422-1712.
Tell-a-Tale Short Story Contest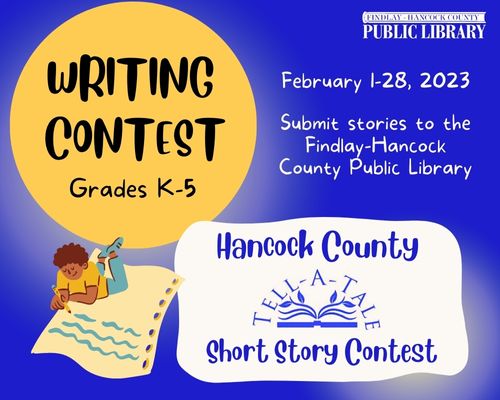 Event Type: Children's Program
Age Group(s): Children
Date: 2/1/2023
Start Time: 9:00 AM
End Time: 8:00 PM


Description:

Write a short story (350 word maximum) and submit it with a signed entry form to the Findlay-Hancock County Public Library. Children in grades K-5 who live or attend school in Hancock County, OH are eligible to enter. Entry forms and rules are available at the Children's Desk, Arlington Branch, and the Bookmobile, or you can print them from the Tell-a-Tale website.


Findlay-Hancock County Public Library
Location: Children's Department
Contact: Sarah Cramer
Contact Number: 419-434-1077
Link: More Information and Forms Here!