If this event requires registration, fill out the information below and click on Complete Registration at the bottom of the page to register for this event. If the event does not require registration, disregard the registration information. If you have any questions, please call 419-422-1712.
Virtual Author Talk: Hernan Diaz "Trust"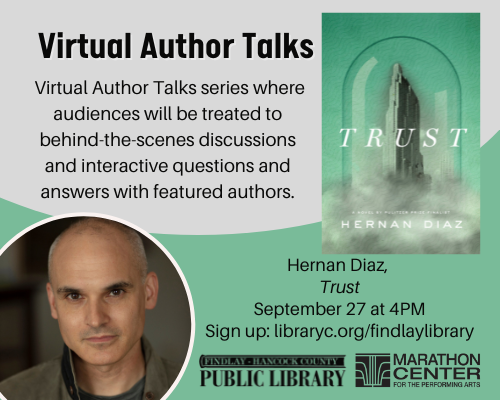 Event Type: Adult Program
Age Group(s): Adults
Date: 9/27/2022
Start Time: 4:00 PM
End Time: 5:00 PM


Description:

Join us for an afternoon with Pulitzer Prize finalist and PEN/Faulkner Award winner Hernan Diaz, author of "In the Distance" and "Trust". Diaz holds a Ph.D. from NYU and edits, the Spanish-language journal "Revista Hispánica Moderna", at Columbia University.

Diaz's new book, "Trust", is set during the roar of the 1920s around the Wall Street tycoon Benjamin Rask and his wife, Helen. Together, they have risen to the top of the world of seemingly endless wealth–all as a decade of excess and speculation draws to an end. But at what cost have they acquired their immense fortune? This is the mystery at the center of Bonds, a successful 1937 novel that all of New York seems to have read. Yet there are other versions of this tale of privilege and deceit.

Hernan Diaz's Trust elegantly puts these competing narratives into conversation with one another—and in tension with the perspective of one woman bent on disentangling fact from fiction. The result is a novel that spans over a century and becomes more exhilarating with each new revelation.

Findlay-Hancock County Public Library
Location: Virtual
Link: REGISTER HERE!