Virtual Author Talk: Simon Winchester "The Professor and the Madman"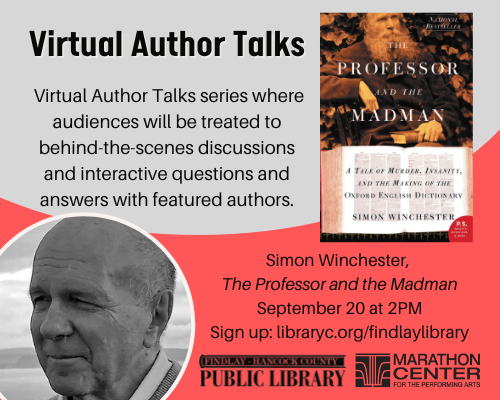 Event Type: Adult Program
Age Group(s): Adults
Date: 9/20/2022
Start Time: 2:00 PM
End Time: 3:00 PM


Description:

Join us for a conversation with prolific British-American writer, journalist, and consummate adventurer Simon Winchester. This author talk will cover many aspects of his work across myriad fields of history, technology, and geology as well as the author's personal expeditions, including his path to becoming the acclaimed best selling author he is today. A master storyteller, Winchesterís narrative is like a journey through time. His keen intellect and ability to precisely and expertly weave everyday life into historical examination leaves his readers feeling awestruck at the world surrounding them.

Winchester is a New York Times Bestselling author with an omnibus of more than 30 titles, including "The Professor and the Madman", "Pacific", "The Perfectionists", and most recently, "Land: How the Hunger for Ownership Shaped the Modern World". Beginning his writing career in journalism, Winchester has found renowned success in the world of non-fiction and now works almost exclusively as an author.

Findlay-Hancock County Public Library
Location: Virtual
Link: REGISTER HERE!