If this event requires registration, fill out the information below and click on Complete Registration at the bottom of the page to register for this event. If the event does not require registration, disregard the registration information. If you have any questions, please call 419-422-1712.
Virtual Author Talks: Liz Moore: "Long Bright River"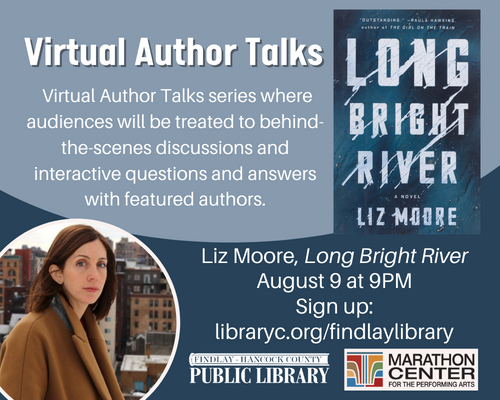 Event Type: Adult Program
Age Group(s): Adults
Date: 8/9/2022
Start Time: 9:00 PM
End Time: 10:00 PM


Description:

Join us for an enthralling evening with New York Times Bestselling author Liz Moore as she discusses her international bestseller, Long Bright River, and her other works.
Long Bright River takes place in Philadelphia where Moore has lived for over a decade. The novel traces the story of two sisters estranged from each other but bonded by their choices. Mickey is a cop, and Kacey lives on the streets in the clutches of addiction. When Kacey suddenly disappears during a string of mysterious murders, Mickey panics over her sisterís safetyóbecoming obsessed with finding the culprit and her sister before itís too late.
Drawing on deeply personal volunteer work, Liz Moore spins a story that is both graphically honest and dignified. Long Bright River puts a very human face on the effect that addiction can have on generations of families and communities. A gripping conversation, you donít want to miss! Author Q&A to follow!


Findlay-Hancock County Public Library
Location: Virtual
Link: REGISTER HERE!