Virtual Author Talks: Alka Joshi "The Henna Artist"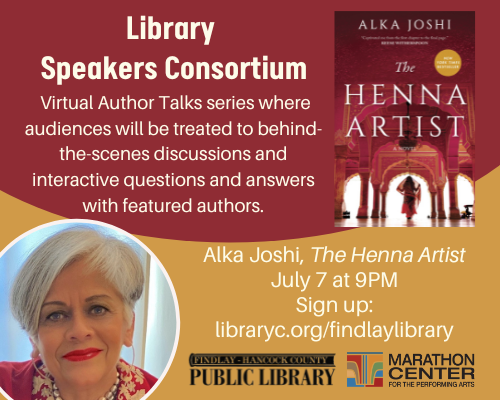 Event Type: Adult Program
Age Group(s): Adults
Date: 7/7/2022
Start Time: 9:00 PM
End Time: 10:00 PM


Description:

Join us virtually from the comfort of your own home for an enchanting evening with New York Times Best Selling author and Reese Witherspoon Book Club pick Alka Joshi as she discusses her captivating and bestselling novels, "The Henna Artist" and "The Secret Keeper of Jaipur".
Alka Joshi was born in India and immigrated to the US when she was nine years old, and published her debut novel, "The Henna Artist", at the age of 62. Vivid and compelling in its portrait of one woman's struggle for fulfillment in a society pivoting between the traditional and the modern, "The Henna Artist" leads the audience on a journey through 1950s post-independence India that is all at once lush and fascinating, stark and cruel.
In this interview, Alka will share her inspirations for her work, how her mother's life story has influenced her writing, and her experience and role in the creation of a "Netflix" series based on her books. Bewitching the senses, Joshi's "The Henna Artist", invites you to feast on Indian culture with mind, body, and soul. Author Q&A to follow the talk! Register below or at https://libraryc.org/findlaylibrary


Findlay-Hancock County Public Library
Location: Virtual
Link: REGISTER HERE!