If this event requires registration, fill out the information below and click on Complete Registration at the bottom of the page to register for this event. If the event does not require registration, disregard the registration information. If you have any questions, please call 419-422-1712.
Eat Well/Live Well: Soups and Stews: Simmering Flavors Across the Globe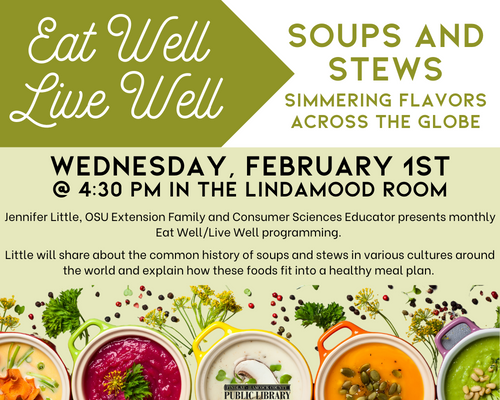 Event Type: Adult Program
Age Group(s): Adults
Date: 2/1/2023
Start Time: 4:30 PM
End Time: 5:30 PM


Description:

Jennifer Little, OSU Extension Family and Consumer Sciences Educator presents monthly Eat Well/Live Well programming. Her upcoming series of programs will feature globally inspired home cooking topics. In February, Ms. Little will share about the common history of soups and stews in various cultures around the world and explain how these foods fit into a healthy meal plan. Participants will get to see and sample some particularly popular soups and receive recipes to take
home.

Findlay-Hancock County Public Library
Location: Lindamood Room
Contact: Devin Orpurt
Contact Number: 419-422-1712
Status: Closed

---
Sorry, this event has already occurred. Please register for another event.