If this event requires registration, fill out the information below and click on Complete Registration at the bottom of the page to register for this event. If the event does not require registration, disregard the registration information. If you have any questions, please call 419-422-1712.
All About Fossils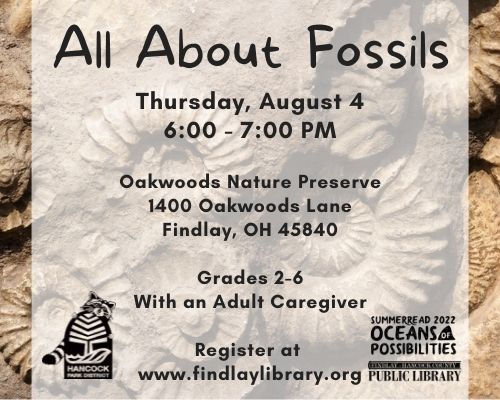 Event Type: Children's Program
Age Group(s): Children
Date: 8/4/2022
Start Time: 6:00 PM
End Time: 7:00 PM


Description:

What is a fossil? How are fossils formed? What can scientists learn about the past by studying them? Learn the answers to these questions and more.

This program is being hosted by the Oakwoods Nature Preserve at 1400 Oakwoods Lane, Findlay, Ohio at the the Richard S. "Doc" Phillips Discovery Center.

Grades 2-6 with an Adult Caregiver. Please register ALL children and adults separately.

Findlay-Hancock County Public Library
Location: Oakwoods Nature Preserve
Contact: Sarah Cramer
Contact Number: 419-434-1077
Status: Closed

---
Sorry, this event has already occurred. Please register for another event.