If this event requires registration, fill out the information below and click on Complete Registration at the bottom of the page to register for this event. If the event does not require registration, disregard the registration information. If you have any questions, please call 419-422-1712.
September Salsa Sampler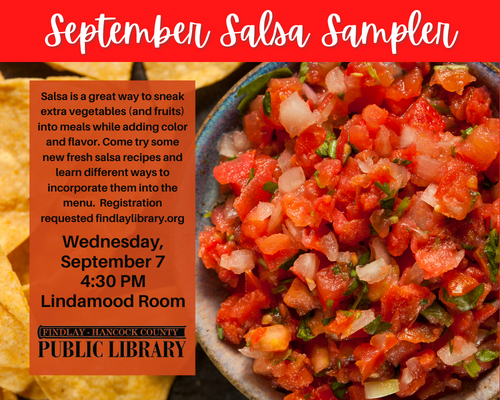 Event Type: Adult Program
Age Group(s): Adults
Date: 9/7/2022
Start Time: 4:30 PM
End Time: 6:00 PM


Description:

Salsa is a great way to sneak extra vegetables (and fruit) into meals while adding color and flavor. Come try some new fresh salsa recipes and learn different ways to incorporate them into the menu.

Findlay-Hancock County Public Library
Location: Lindamood Room
Contact: Carolyn Dahms
Contact Number: 419-434-1482
Status: Closed

---
Sorry, this event has already occurred. Please register for another event.